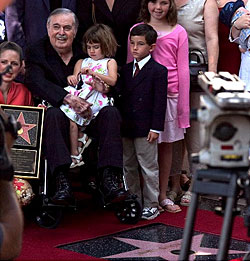 Mi admirado James Doohan, Montgomery Scott "Scotty" en la serie Star Trek, acaba de estrenar su estrella en el Paseo de la Fama de Hollywood, exactamente en el 7021 de Hollywood Bulevard. Tan simpático como siempre, dijo a la prensa:
I am really bummed I missed the convention on Sunday but this made up for it. I'll remember it every time I walk by his star. Safe journeys Scotty...
Se refiere a una convención muy especial para él, The James Doohan Farewell Star Trek Convention & Tribute que se acaba de celebrar del 27 al 30 de Agosto en el Hotel Renaissance de Hollywood. Parece que está recibiendo todos los honores posibles. Sin duda son merecidos, pero lamentablemente suelen ser señal de un mal estado de salud.
En este enlace (saltad la publicidad) hay más fotos del acto de entrega de su estrella, en las que se ve a Scotty con otros míticos actores de la serie: Walter Koenig, George Takei, Nichelle Nichols,...
Con la gran noticia, otra más curiosa. Sigue haciendo falta aportar 15.000 dolares (por mucha fama que uno tenga) para poder tan sólo optar a que la Cámara de Comercio de Hollywood se reúna para votar si aprueban la concesión de la estrella.
Veo a este hombre y, sobretodo, lo mayor que está y me doy cuenta del tiempo que ha pasado desde que empecé en esto de la ciencia ficción y el frikismo en general.
Live Long and Prosper, Scotty
(Enlace via BoingBoing)