Todo un éxito reciente, crear versiones del mapa del metro cambiando los nombres de las estaciones por anagramas, en BoingBoing podéis encontrarlos de varias ciudades (por ahora ninguna española): Londres, Toronto, Amsterdam, Chicago, Manhattan, Oslo, Boston, Atlanta, Viena, Washington DC, Stockholm, Los Angeles, Cleveland, San Luis, San Francisco, Singapur, Berlín, Copenhague, Baltimore, y más.
A raiz de la noticia de que Transport for London obligó a cerrar la web (Mirror) donde se alojaba la versión Londinense (ahora se lee "Content removed at the request of Healeys Solicitors acting on behalf of Transport for London and Transport Trading Ltd") nos enteramos de esta web que recopila todas las versiones modificadas del plano del Underground (metro de Londres), probablemente el más famoso y reconocible del mundo.
Hay algunas cojonudas: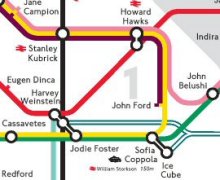 Totalmente dedicado a Marta, por su afán de mejorar los transportes.
(Via BoingBoing a lo largo de muchos posts)
Acutalización 26-02-2006 - 11:50: Calgary, Vancouver (x2), Philadelphia, Buffalo, Rochester, Hong Kong (x2), Seattle, Minneapolis, Detroit
Actualización 27-02-2006: Miami (x2), Dublin, Ontario, Dallas, Glasgow, Portland, Ottawa, Houston
Actualización 28-02-2006: Montreal (x2), Helsinki, Monterrey, San Diego, Mexico City
Actualización 01-03-2006: NY/NJ PATH y Sydney
Actualización 06-03-2006: Brisbane, Syracuse, Chicago