Este año he jugado mucho y a muchos juegos, tantos que apenas en algunos he repetido más de 2-3 veces. Como catalogador obsesivo y compulsivo tengo las cifras más o menos exactas gracias a Board Game Geek y su fantástica aplicación para Android.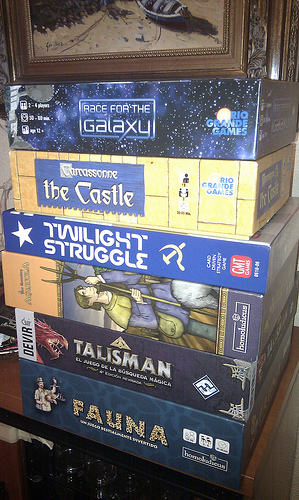 Paso directamente al resumen de las cifras. He jugado 164 partidas a 71 juegos diferentes, considerando que a 39 de ellos sólo jugué una única vez. Los doce juegos a los que más he jugado en 2011 son (ordenados de más a menos partidas):
No necesariamente he jugado más a los que más me gustan, simplemente hay juegos que ven mesa con más facilidad que otros en parte por su corta duración, por ejemplo el Piko Piko o el Jungle Speed. Me gustaría haber jugado mucho más a otros como Die Macher, Descent o Agricola, pero la duración y el tipo de jugadores necesarios lo hacen más complicado.
Además, este año ha sido especialmente evangelizador y he tenido innumerables tardes de juegos con neófitos. Espero que lo sembrado en 2011 en ese sentido se transforme en 2012 en más y sobretodo mejores sesiones de juego.
Como ejemplo no especialmente representativo, junto a esta entrada pueden ver una foto que saqué de la pila de juegos que teníamos para esta pasada Nochevieja: Race for the Galaxy, Carcassonne The Castle, Twilight Struggle, Agricola, Talisman y Fauna.