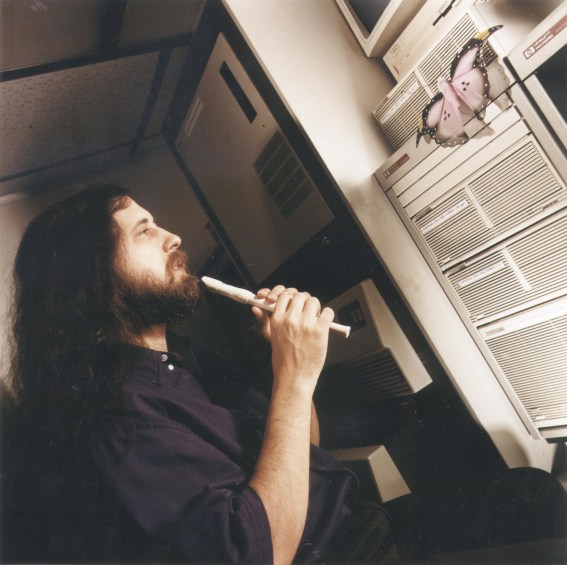 Nuestro barbas favorito visita Madrid dentro de su gira ([1] [2]) por España. Dará unas conferencias en la Facultad de Informática de la Universidad Politécnica de Madrid.
Por ser mi antigua facultad, y por ser este hippie quién es, no creo que me pierda ninguna de las dos conferencias. Ya le he escuchado otras veces, y siempre merece la pena. ¿Os animás a venir?
The Free Software Movement and GNU/Linux
Martes 4 de Mayo (10:30 a.m)
Richard Stallman hablará (en castellano) de las metas y de la filosofía del Movimiento de Software Libre, así como del estatus y la historia del sistema operativo GNU, el cual, junto con el kernel de Linux, es usado en la actualidad por millones de usuarios en el mundo entero.
Copyright vs Community
Miércoles 5 de Mayo (10:30 a.m.)
Richard Stallman hablará (en castellano) acerca de los derechos de "Copyright", y de cómo este sistema no se ajusta bien a la nueva sociedad de compartición de información creada gracias a las redes de computadoras. Solamente la amenaza constante de sanciones draconianas a los usuarios puede hacerlo cumplir.
Mientras las empresas editoras que se benefician del "Copyright", alientan estas draconianas sanciones e incrementan sus poderes de "Copyright", se suprime el acceso público a la tecnología. Si de verdad se espera servir al legítimo propósito del "Copyright", que era Promover el Progreso por el beneficio del público", entonces debemos hacer cambios hacia otra dirección.