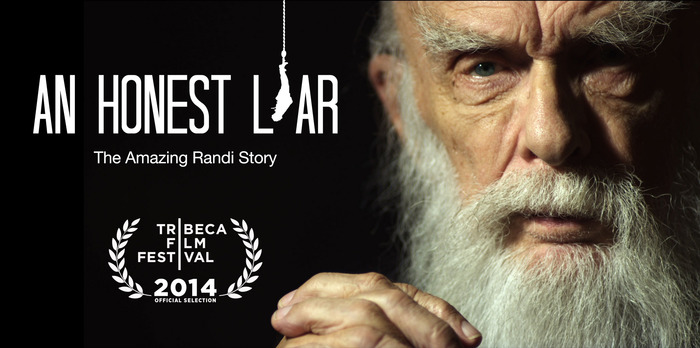 Hace un par de semanas me alegró el día saber que se está grabando y produciendo un documental sobre la vida del Asombroso James Randi. Este personaje, fundamental en el desarrollo y expansión del pensamiento crítico y la lucha contra las pseudociencias, merece todo tipo de homenajes, especialmente ahora que ya es bastante mayor aunque siga plenamente lúcido e hiperactivo.
El documental, titulado An Honest Liar (Un Mentiroso Honesto), está dirigido y producido por Justin Weinstein y Tyler Measom, que buscan donaciones e inversores para completar la producción. Por lo visto en el tráiler, cuenta con la participación y colaboración de una parte muy importante del colectivo escéptico mundial.
Según lo describen en la web (la traducción es mía):
An Honest Liar profiles the life of famed magician turned professional skeptic James "The Amazing" Randi as he embarks on a series of public crusades to expose the world's beloved psychics, mentalists, preachers, and faith healers with religious fervor. Along the way, the film will show how easily our perceptions can be fooled – by magicians, con artists, and even documentaries.

Un Mentiroso Honesto perfila la vida del afamado mago que se convirtió en escéptico profesional James "The Amazing" Randi mientras se embarca en una serie de cruzadas públicas para exponer a los más famosos psíquicos, mentalistas, predicadores y curanderos. Por el camino, la película mostrará lo fácil que nuestras percepciones pueden ser engañadas – por magos, artistas del engaño e incluso documentales.
Habrá que estar atentos, el estreno está previsto para 2013.